General Details
Features
Specifications
Applications
Documents
General Details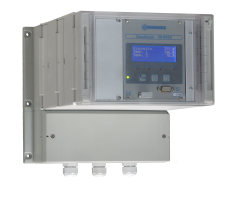 VS-4450 build into wall mount enclosure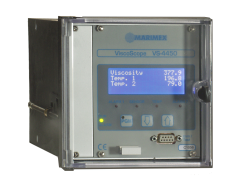 VS-4450 build into panel mount housing
The
VS-x450 transmitter
is available in two versions: with a 2 x 4-line display (
VS-4450
)
and without a display (
VS-B450
).
Designed in accordance with the 19″ standard, the transmitter can be mounted in a panel housing or wall mount housing as well as in a 19″ rack depending
on your requirements.
The transmitter contains 4 sockets for output cards. A maximum of 4 analogue outputs or 3 analogue outputs and 1 serial output (RS232 or RS485) can be installed. The analogue outputs are configurable for every available measurement parameter. This has the advantage that, e.g. two analogue outputs can be configured for viscosity,
one over the complete range (shows the trend) and the second just for a sector of the range (offering better resolution for regulation of a process within a specific range). Decadic transmission of the measurement data is also possible via the analogue outputs.
If the ViscoScope system is intended for use without being connected to a process control system, it is possible to implement alarms or time proportional regulation using a relay card. Time proportional regulation makes it possible to implement e.g. the precise dosing of solvents or addition of solid material.
Features
Award winning Negative Ion Capture (NIC) technology
Rely output for immediate awareness of any leaks detected
No cross sensitivity with any other gases or moisture in the air
Audio and visual alarms
Data logging
Complete safe set up via PC or the Network Interface protects from unauthorised access
Built in low flow alarm and full built in diagnostics test
Exchangeable SmartSensor (12 month lifetime)
Low maintenance
Use as a stand alone detector or with the P2 network controller and up to 11 other SF6 AreaCheck P2s
Specifications
DETECTION PRINCIPLE
SF6: NIC
O2: GC (Galvanic Cell)
RANGE
0 – 2000 ppm SF6
RESOLUTION
500 ppm SF6 /10ppm
MAINS POWER
100 – 240 VAC, 50/60 Hz
POWER CONSUMPTION
18VA
OPERATING TEMPERATURE
-5°C to 45°C
STORAGE TEMPERATURE
-20°C to 60°C
OPERATING HUMIDITY RANGE
10 – 90% non condensing
MAX LOAD, RELAY OUTPUT
2,5A / 230 VAC
SIZE
H 280 x B 165 x T 125 mm
PROTECTION CLASS
IP 52
NOISE LEVEL OF AUDIBLE ALARM
> 75 dbA, 1m
WEIGHT
1,5 Kg (w/o wall mounting bracket)
FUSE
T 1A (Slow Blow)
Applications
SF6 AREACHECK P2 is especially developed to detect and respond to leakages in indoor GIS with respect to MAC. The P2 is therefore the ideal tool to protect personnel as well as reduce enviromental harmful and costly SF6-emissions.