General Details
Features
Specification
Documents
General Details
Corvus is a continuous, wireless VOC monitor for Indoor Air Quality (IAQ) containing sensors for temperature, barometric pressure and humidity.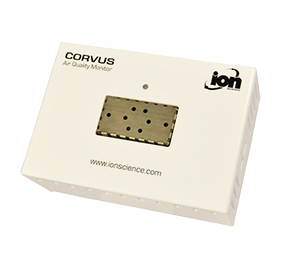 Corvus utilises high sense technology detecting Volatile Organic Compounds (VOCs) down to low parts-per-billion (ppb) levels. Its wireless capabilities allow a network of up to twenty instruments to be deployed around the building, with data downloaded and managed via just the one instrument.
The Corvus IAQ monitor continuously detects and data logs a wide variety of VOCs including Benzene, Tetrachloroethylene and Styrene, protecting workers from hazardous gases. The instrument gathers high quality, real trend data for detailed analysis giving a true picture of what is happening within the environment.
The instrument's intelligent interactive mapping software shows real trend data captured within each room. The collection of long-term information eliminates the need for frequent site visits and spot checks, saving both time and money.
Small, sleek and compact in design, the Corvus IAQ monitor allows multiple deployment around the building via wireless connectivity, whilst using minimal space and blending well into the workspace environment.
The Corvus IAQ monitor incorporates Ion Science PID sensor technology, independently verified as best performing on the market for speed, accuracty and humidity resistant operation. Its unique Anti-contamination and patented Fence Electrode Technology provide extended run time in the most challenging environments, giving you accurate and reliable results.
Typical gases include the Corvus detects include Benzene, Ethyl benzene, Styrene, Tetrachloroethylene, Trimethlybenzene, Toluene and Xylene.
Contact Ion Science for more information.
Features
Best available photoionisation (PID) detection
• Detects a wide variety of Volatile Organic Compounds (VOCs) including Benzene, Tetrachloroethylene & Styrene
• Includes temperature, barometric pressure & humidity sensors
• Low level parts-per-billion (ppb) sensitivity
• Gathers continuous high quality data for detailed analysis
• Humidity resistant PID technology
• PID independently verified as best performing on the market
Wireless communication and interactive software
• Wireless network connectivity for multiple point monitoring
• Interactive software for enhanced data handling
• Multiple data collection via a single monitor
• Intelligent mapping software shows movement of gases
Convenience
• Time saving; eliminates multiple site visits and spot checks
• Compact size; multiple deployment using minimal space
• Sleek design blends well into workspace environment
• Simple multicoloured LED displaying wireless status,
sampling status and connection to system
Safety
• Ensures a safe indoor working environment for personnel
Specification
Sensitivity
PID : 5 ppb
Temperature: 0.1 oC (0.18 oF)
Relative humidity: 0.04%
Barometric pressure: 0.72 mbar (72 Pa), (0.2% full scale)
Detection Range
PID: 0-50 ppm (isobutylene equivalent)
Temperature: -40 oC to +125 oC (40 oF to 257 oF)
Relative humidity: 0-99% (non condensing)
Barometric pressure: 700 mbar to 1060 mbar (70 KPa to 106 KPa)
Accuracy
PID: +/- 5 ppb displayed reading + 1 digit
Temperature: +/- 1 oC of reading + 1 digit
Relative humidity: +/-4% of reading + 1 digit @ 25 oC between 10 and 90% RH
Barometric pressure: +/- 1.5% displayed reading + 1 digit (FSO)
Wireless Network
Type: mesh
Corvus to Corvus range (open field): up to 12 metres (39.3ft)
Maximum number of Corvus in group: 20 max
Wireless frequency: 2.4 MHz
Data Logging
Data logging: 18,755 points (individual Corvus)
Data logging: 8900 points (Network of 20 Corvus)
Data log options: 1 min, 10 min, 1 hr
Power
Mains power supply: 100-240 Vac (15 Watts)
Cover power input: 12 Vdc
Communication
Corvus to PC: USB
Corvus to Corvus: wireless via a network
Weight & Dimensions
Height: 68 mm, 2.7"
Width: 176 mm, 6.9"
Depth: 123 mm, 4.8"
Weight (unpackaged): 400 gr, 14.1 oz