General Details
Gas Sampling Bags are used to collect samples for analysis in a laboratory. The ALTEF film replaces the soon-unavailable Tedlar for VOC collection, and Multi Layer Foil Barrier bags are optimal for samples that require very low permeation such as H2S. A variety of fittings and bag sizes are available to suit each application.
Ion Science also offers custom gas sampling bags made to your exact specifications in size, valve type and sampling bag material. Please contact Ion Science for more information and pricing on Gas Sampling Bags.
ALTEF® Gas Sampling Bags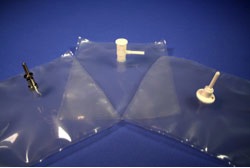 ALTEF is a specially formulated film based on poly (vinylidene fluoride), or PVDF.
ALTEF Film Properties
Thickness: 0.003″
Specific Gravity: 1.78
Tensile Strength: 6100 psi
Max. Operating Temp.: 300° F
H2O Vapor Permeability: 12-15 cc/cm 3.d
CO2 Permeability: 172 cc/cm 3.d
O2 Permeability: 58 cc/cm 3.d
Advantages of ALTEF Gas Bags
Inert to most compounds including acids, alcohols, chlorinated solvents and aromatics
Very stable for sampled compounds including CO, CO2, methane, and most VOCs
Longer storage times for most VOCs than Tedlar
Inherently pure material with no additives, fillers, or pigments
Does not release DMAC or phenols into the gas sample, as Tedlar does and has lower VOC and sulfur compound background than Tedlar
Abrasion resistant
Multi-Layer Foil Barrier Gas Sampling Bags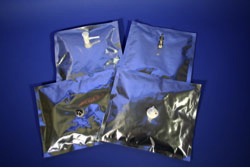 Multi-Layer Foil Barrier gas sampling bags exhibit extremely low permeability and are ideal for low molecular weight gases including H2, CO, and CO2. This film is the only type that holds H2S for >5 days, unlike Tedlar or other bags. These bags also provide a strong moisture barrier and protect photo-sensitive compounds from light. Table 2 lists the five layers that give the low permeability and high inertness. Multi-Layer Foil Bags have strong, even seals, making them ideal for mailing or shipping to a laboratory for analysis. The multi-layer material is tough, yet flexible. Multi-Layer Foil Bags are not suitable for collecting low ppm and ppb level VOCs due to background from the bag materials.
Multi-Layer Foil Film Layer Material
60 gauge Nylon
Aluminum (Metallized)
Polyethylene
0.0003″ Aluminum Foil
0.002″ Polyethylene
Multi-Layer Foil Bag Applications
Biogas and landfill gas sampling
Sewage treatment plants and landfills
Emission control
Fruit warehouses
Fermentation cellars
Site sampling
Mobile surveys
Transfer of calibration gases to instrument from lab
Assessing exposure from leaks and spills
Indoor air studies
Testing of workplace air quality
OSHA ID-172 (Carbon Dioxide)
OSHA ID-210 (Carbon Monoxide)
Tedlar® Gas Sampling Bags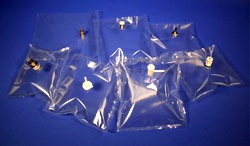 TEDLAR is a registered trademark of E. I. du Pont de Nemours and Company.
Tedlar Film Properties
Low gas permeation levels
High tensile strength
Continuous temperature range from –98°F to 225°F
Unaffected by the chemical components of gases commonly sampled, like carbon monoxide, sulfur dioxide, hydrogen sulfide, radon and mercaptons
Advantages of Tedlar Gas Bags
Less permeable than FEP, PFA and TFM
Bags resist puncture in the field
Less expensive than FEP and PFA film
Recommended in many EPA testing methods