The ability to accurately, quickly and efficiently monitor and reduce pollutants emitted into the atmosphere continues to drive the need for mass spectrometry systems and components. Across the globe, from industrial processing plants to research laboratories, companies depend on Extrel's Mass Spectrometry Systems and Components for environmental monitoring applications.
Environmental / Atmospheric Applications
In today's world, intense focus is placed on safety and regulatory compliance.  The MAX300-AIR makes fast, accurate measurements of toxic compounds in air to protect workers and the surrounding community.
---
For over 50 years, scientists have relied on Extrel's Quadrupole Mass Spectrometers and Systems for Atmospheric Chemistry studies. These instruments, designed with high sensitivity and resolution, stability, and reliability, are ideal for those performing laboratory simulations using a Flow Tube or SIFT Analysis. Systems can also perform Direct Atmosphere Sampling from aircraft, ships, or ground stations.
---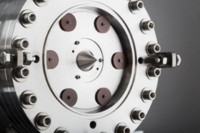 Combustion Analysis requires very fast, stable chemical analysis of the combustion process or exhaust stream. Critical to the process is the use of a gas analysis system with high sensitivity and high resolution, to accurately monitor a wide range of applications.
Extrel's instruments include the MAX300-LG™ Laboratory Gas Analyzer and MAX300-IG™ Industrial Gas Analyzer Systems, capable of sampling from multiple points along an atmospheric pressure exhaust stream. For in-depth analysis of the combustion process, Extrel offers the MAX, MAX-LT™, Molecular Beam MS and MS/MS Systems.
---
Government agencies worldwide regulate the emissions of Hazardous Air Pollutants (HAPs) such as Benzene, Toluene, and Xylene (BTX); Highly Reactive Volatile Organic Compounds (HRVOCs); and various sulfurs. The speed, reliability, flexibility and detection limits available from the MAX300-IG make it the ideal solution for real-time emissions monitoring.
---
For Semiconductor producers, Destruction and Removal Efficiency (DRE) of Hazardous Air Pollutants (HAPs) and Greenhouse Gases has become increasingly important. Extrel Mass Spectrometers monitor systems, such as Scrubber Burn Boxes, used for the abatement of combustible gases.
---
Compliance with clean water environmental regulations is a major concern for almost all industries. To help customers meet their environmental responsibilities, Extrel has leveraged its experience in online process gas analysis to include various online Water Analysis applications using the MAX300-IG Industrial Gas Analyzer.
---
Increased emphasis on protecting the environment, combined with evolving regulatory guidelines, such as 40 CFR Part 60 Subpart Ja, is driving industry to improve its processes to be cleaner and more efficient. The MAX300-AIR is the single-analyzer solution for flare gas H2S, total sulfur, and BTU content.