General Details
Features
Set up Scenarios
Specification
Documents
General Details
Detective Wireless is a module that can replace interconnecting cables forDetective+. Detective Wireless will transmit gas alert signals and other alarms wirelessly between Detective units using a 433MHz signal up to 100 metres in distance.
Detective Wireless uses the proven RICOCHET mesh network. When establishing a mesh network, Detective Wireless automatically selects the best line to give strongest interconnections. Should wireless connection between two devices weaken, the network will 'self-heal' and automatically re-route communications via alternate RICOCHET enabled devices, creating a mesh type network that provides a more robust and efficient wireless network.
When Detective+ goes into alarm, the signal will be sent to other units alerting the user to gas being present in the area. If the signal is weak due to heavy metal work being present the Detective Wireless can be used as a repeater to boost the signal between units. In a confined space the unit can use up to 20 metres of cable to position the unit in a location that will increase signal.
For more ideas see the scenario suggestions below or conatct Crowcon.
Watch the video to see how Detective Wireless provides the easy answer to wireless temporary area monitoring.
Features
Versatile and user friendly
Infrared sensor available – allows sampling of highly flammable gas levels and carbon dioxide. They are also unaffected by poisoning
Built-in pump option – provides fast response and extra sensor protection and sampling versatility
Clear display – provides clear information and allows indentification of gas hazard
Rugged, tripod design
Raised sensor apertures – prevents water ingress
Folding or fixed leg options – allows stacking for easier storage and transportation
IP65 specifications – provides excellent sensor protection
Loud and clear alarms
25 Detective+ units may be linked together, up to 100m from adjacent units – all linked Detective+ units indicate an alarm sensed by any one unit
Units sending an alarm flash faster – provides effective warning of gas hazards
Audible and visible confidence blip
Vivid red LED clusters for visual alarm
Multiple beacons – ensures 360o visibility
Set up Scenarios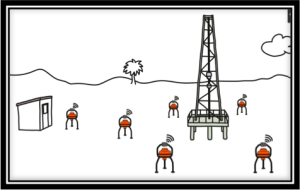 Mesh Network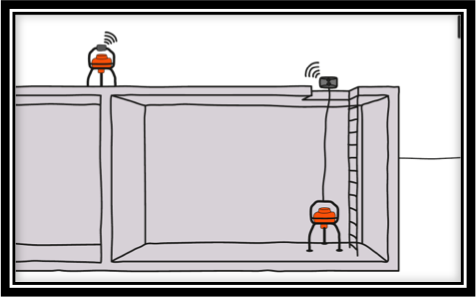 Confined Space Install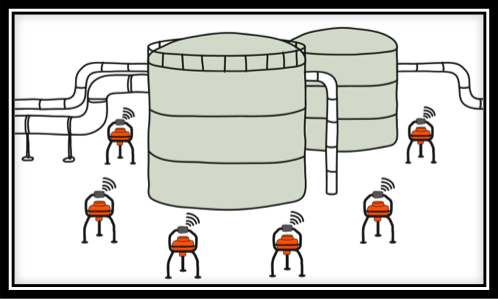 Ring Network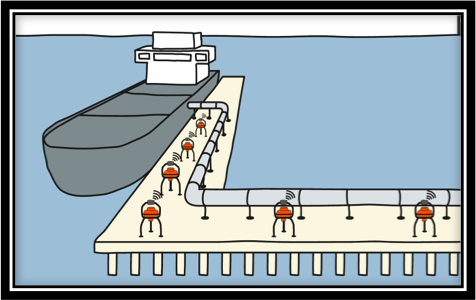 Network Hopping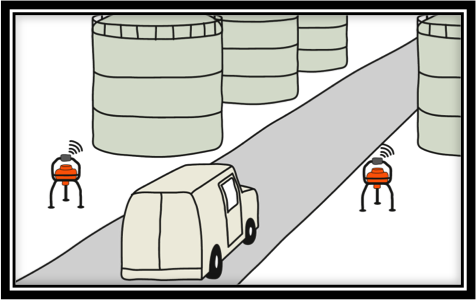 Hazardous Area Entrance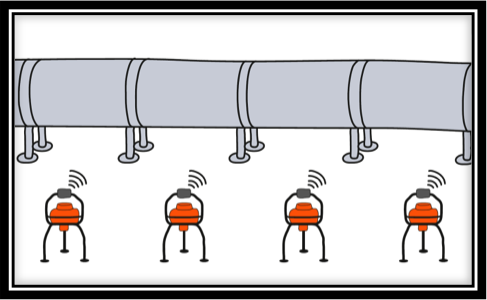 Network Hopping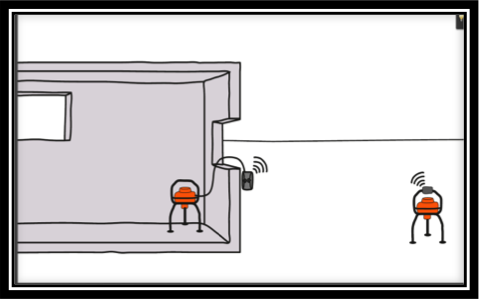 Confined Space Install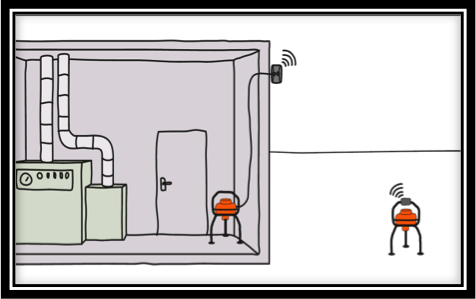 Boiler Room
Specification
Size
140 x 76 x 37mm (5.5 x 3 x 1.5ins) (excluding mounting clip)
Weight
7.5kg (16lbs) (excluding mounting clip)
Battery
Non-rechargeable, 1 year plus battery life. Shelf life: 2 years
Operating temperature range
-20°C to +55°C (-4°F to +131°F)
Humidity
0% and 95% relative humidity (non-condensing) at +40°C
Ingress protection
IP65 and IP67
Wireless range
Typically 70m dependent upon physical location and environmental conditions but up to 100m possible
Maximum devices
Maximum number of devices in a network is 25
Approvals
IECEX: Ex ia IIC T4 Ga Tamb -20°C to +55°
CATEX: II 1 G Ex ia IIC T4 Ga Tamb -20°C to +55°C
Compliance
EN 300220-2 V2.3.3 (2010-02)EN301489-3v1.4.1 EN301489-1v1.9.2 EN50270:2006 (Type 1) EN60950-1:2006+A12:2011 IEC60950-1:2005 2nd Edition: A1:2009
Available frequencies
433MHz
Country Approvals
(wide range available,
speak to your local crowcon
representative)
IDA Approval
EQUIPMENT REGISTRATION UNDER TELECOMMUNICATIONS (DEALERS) REGULATIONS
Registration Number: N2177-13
IDA Spec. No.: IDA TS SRD
Radio frequency 433 MHz certified in:
| | | | |
| --- | --- | --- | --- |
| Austria | Finland | Latvia | Slovakia |
| Belgium | France | Lithuania | Slovenia |
| Bulgaria | Germany | Malta | Spain |
| Cyprus | Greece | Netherlands | Sweden |
| Czech Republic | Hungary | Norway | Switzerland |
| Denmark | Iceland | Poland | Singapore |
| UK | Ireland | Portugal | Trinidad and Tobago |
| Estonia | Italy | Romania | United Arab Emirates |